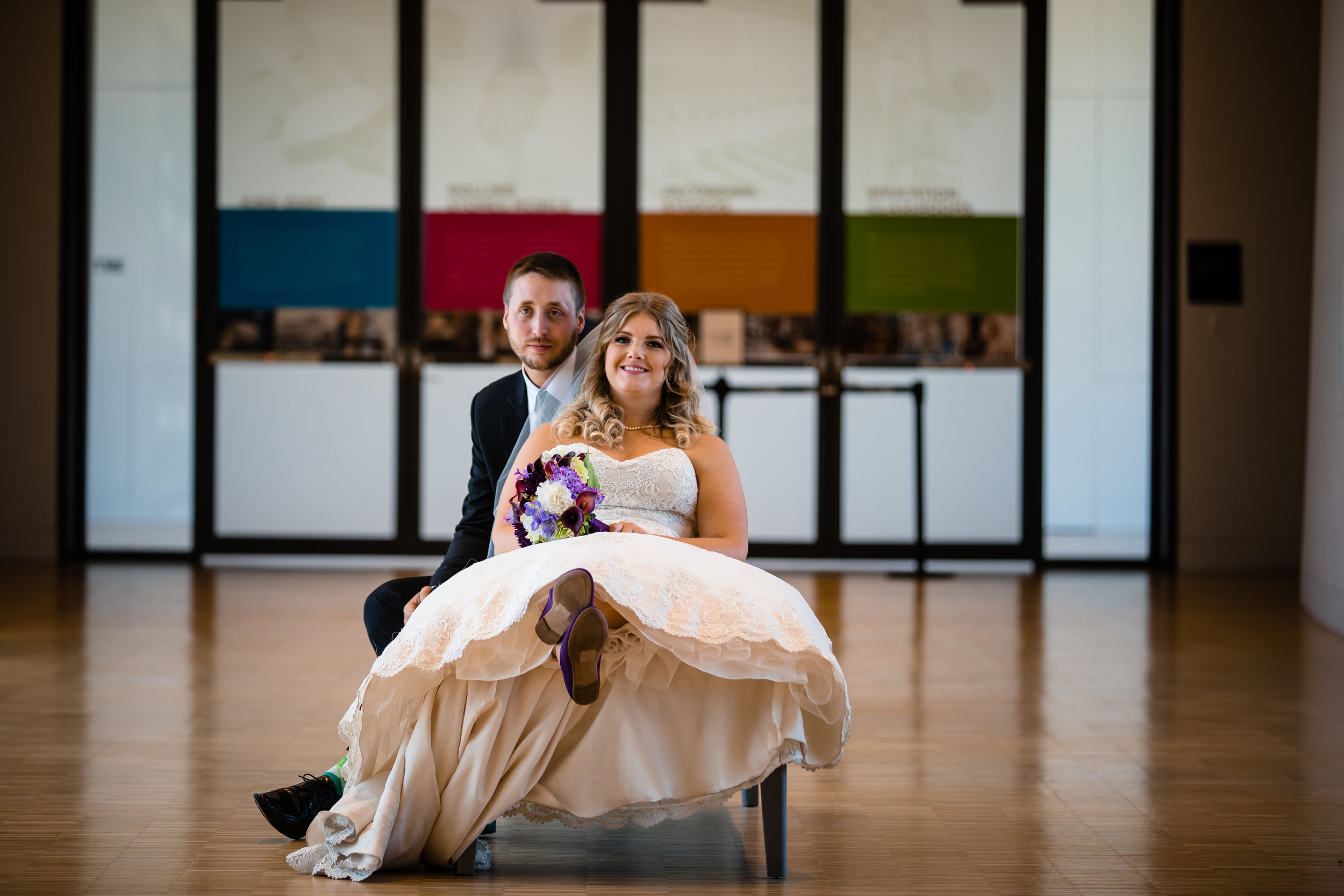 "We found Kelsey and Jared on a wedding group on Facebook and we are so glad we went with them. From our first meeting we both just had a feeling they were right for us. Kelsey and Jared shot both our engagement and wedding photos. All of our pictures are beautiful and we have received so many compliments on them. They were so awesome and fun to work with. Our families can be a bit crazy and ridiculous (in a good way) and they were great and fit in so nicely with our family. All our family told how nice and great they were. We highly recommend them as photographers and would definitely use them again for family photos in the future."
"K and J are such a professional, fun, amazing and patient duo. I am so happy they photographed my wedding, all of my pictures turned out perfect and exactly what I wanted. I don't think I could have asked for anything more from them! I met K and J at a wedding show and immediately loved their work. They are very talented but I think even more important is they are so fun, professional and easy to work with. They make sure you get exactly what you want. Great photographers can make your wedding day and that is why I am so happy we had them on our wedding!"
My husband I were very lucky to have Kelsey and Jared take our wedding photos for us. They did an incredible job and our photos turned out amazing. One of my close friends had recommended them to me. At the time we were living overseas, so we only had the chance to meet Kelsey right before the wedding. Kelsey and Jared were very organized and professional in guiding us towards what kind of photos we wanted for our wedding day and followed through by providing us with photos that captured all the special moments. They made the day easy for us by helping round up family and friends for the group photos and by guiding my husband and I through our photos as we are not the most photogenic people. Having both Kelsey and Jared for our wedding was extremely helpful because Kelsey came to take photos of me while I got ready in the morning, and Jared took pictures of my husband and the groomsmen. We had a huge variety of photos from the day and we loved every single one of them. I would highly recommend Kelsey and Jared as photographers.
"Loved getting to work with Kelsey and Jared! Both were very professional and made the whole day fun and laid back. Got our photos back and was blown away by how amazing they were and how they were able to capture the day as it happened and didn't feel overly posed. Love the memories that were captured and we will cherish them for years to come.."
"Kelsey and Jared were absolute pleasures to work with. They were easy to coordinate with, replied quickly to questions, and made us feel really comfortable in front of the camera. We were very happy with how they captured our wedding day and would definitely recommend them to others."
"Kelsey and Jared shot both our engagement and wedding photos. We loved both shoots and have received many compliments from family and friends on the pictures. Kelsey and Jared were a pleasure to work with and very communicative. We would not hesitate to recommend them for your special day or event. You will not be disappointed!"
"Kelsey and Jared were wonderful photographers for our wedding. They worked with us in advance to understand the shots that were most important to us and made sure to implement them on the day of our wedding. We are thrilled with our wedding photos and look forward to using K and J photography again for other special occasions in the future!"
"Had an extremely wonderful experience with these lovely photographers. They are a pleasure to work with and gave us so many wonderful photos of our wedding. Me and my husband are eternally grateful to them for capturing so much of our special day. We certainly would recommend them to others.
PS We highly recommend the photobooth option it was an so much fun and the photos were amazing."
"The pictures turned out amazing, from our engagement shoot last fall to our wedding in June, they captured the moments that we will treasure forever. Thank you very much.."